Home | Equipment | Microphone | PA Rental Packages

Shure Beta 56A Microphone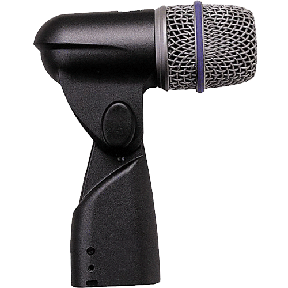 Description
Consistently excellent performance has made Beta microphones the choice of top performers worldwide.

Renowned for their warmth, presence and sensitivity to fine detail, Beta cartridge configurations and carefully tailored response curves are as distinctive as the artists who prefer them. All models feature maximum isolation and minimum off-axis coloration and a NEW Wider mounting base capable of accommodating a larger range of microphone stands. Even works with the LP Claw.

Specifically engineered for drum and instrument applications, the Beta 56A's compact, pivoting design makes it the ideal choice for these applications. Its extremely uniform supercardioid pickup pattern provides high gain before feedback and excellent rejection of unwanted noise. A built-in dynamic locking stand adapter with an integral XLR connector simplifies installation. The stand adapter keeps the microphone securely in place, even if it is struck by a drumstick.



DOWNLOAD SPEC SHEET


Rental Price
One day rental $25.00

Two day rental $45.00


($85 - $150 upgrade fee per wireless mic)