Home | Equipment | Microphones | PA Rental Packages

Shure SM57 Microphone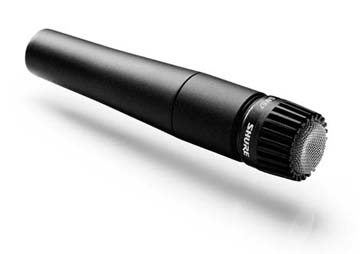 Description

The legendary Shure SM57 is exceptional for musical instrument pickup and vocals. With its bright, clean sound and contoured frequency response, the SM57 is ideal for live sound reinforcement and recording.

What gives the SM57 the reputation of a workhorse? Maybe the fact that the Shure SM57 is versatile in application, durable, and reliable. It has been used by the President of the United States for the past 30 years, and put to the test on stage and on tour by artists such as Stewart Copeland, AC/DC, and the Stone Temple Pilots, as well as famed producer Daniel Lanois, to name a few. It can be dropped down six flights of stairs then dunked in a glass of water and still perform like it just came out of the box (please don't try this at home).

The SM57 has become a standard in the musician's arsenal thanks to the extremely effective cardioid pickup pattern, which isolates the main sound source while minimizing background noise.



DOWNLOAD SPEC SHEET
Rental Price
One day rental $25.00
Two day rental $50.00

($85 - $150 upgrade fee per wireless mic)